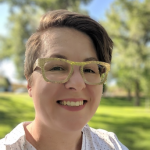 Tara King is a self-taught developer, currently on Pantheon's Developer Relations team, where she helps WordPress and Drupal developers find success and optimize their WebOps processes as part of our developer community. She lives in Albuquerque, NM, where she runs a board gaming convention, writes poems, and tends her garden.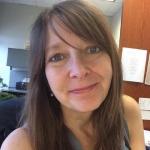 Carolyn Shannon is Manager of Technical Documentation at Pantheon. A seasoned digital services manager, Carolyn has focused for more than a decade on building sites with great content and information architecture, especially using the Drupal and WordPress CMS platforms. She is a writer, Drupalista, and former NAGW board member, having worked in the local government space for more than a decade.
Carolyn is passionate about how good user experience, accessibility, and inclusive design creates loyal customers and drives results. She has delivered numerous talks on accessibility and inclusive design, and is founder of Pantheon's Accessibility Workgroup.
In her spare time, Carolyn is a runner and a knitter (though not usually at the same time) and enjoys music, poetry, and hiking with her family.
Description
Are you Drupal-curious? Just getting started with CMS' and WebOps? This live, three-hour workshop, will take you from understanding what Drupal is, why Drupal 9 matters, to creating basic content, users, and an overview of more complex Drupal features. No prior experience with Drupal or web development is necessary.
At the end of this workshop, you'll have an understanding of how content creation in Drupal works, and have a working test site that you can tinker with for as long as you like.
Learning Drupal doesn't have to stop after this workshop. You'll get access to a recording of the workshop so you can work through the steps again, plus additional resources to take your learning further so you can leverage WebOps and Drupal to accelerate your workflows.
Agenda:
What is Drupal?
What's new in Drupal 9?
Content Management
Creating Structured Content
Creating Dynamic Lists
Users, Taxonomy, & More
Pantheon
Q&A
Who Should Attend:
All are welcome. This three-hour course consists of topic-driven lectures and step-by-step exercises delivered online.
Some typical attendees of past events have been:
WebOps team members: project managers, content creators, site builders, QA testers and anyone else who works with a Drupal site.
Drupal-curious developers: ever wonder how to build sites with Drupal?
Junior developers: anyone getting started with web development will learn the foundations of Drupal.
Here's What You'll Learn:
Drupal Basics: Getting set up to create content in Drupal, navigating and understanding the interface, and the benefits of the open source Drupal community. 
Content Types & Fields: Content Management Systems are built to help you manage complex content and relationships. Content Types and Fields are two powerful building blocks that Drupal offers to allow you to create and manage complex data structures within an easy UI.
Dynamic Lists: You'll learn how to use Views to create many different dynamic lists that update automatically across your website.
Q&A: We'll spend a portion of the time answering any questions you have around the essentials of Drupal.